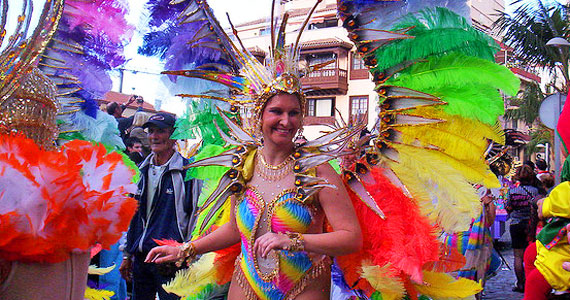 Tenerife is and always has been a haven for tourists looking for sun, sea and sand. But rather than just being somewhere where sun-burnt tourists laze around sipping cheap beer during the day before hitting one of the lively nightspots at night, the island is establishing itself as a cultural heartland in its own right, complete with a long list of annual celebrations which attract people from all over the world.
If music, culture and experiencing the hustle and bustle of carnivals are favourite pastimes, Tenerife is a must place to visit. Try one of these three festivals to experience the magic of Tenerife first hand.
1. Carnival of Santa Cruz de Tenerife
Trying to book Tenerife hotels during February is always a struggle, particularly in Santa Cruz de Tenerife – the islands capital – as every year one of the world's most spectacular carnivals arrives in town. In fact only the Rio carnival attracts more people and international attention. Over a million visitors descend onto this small city to experience it first hand, which is why Tenerife hotels, inns, and B&B's often struggle to provide the accommodation needed – but this still does not put people off coming!
But by booking early you can expect to see outrageous costumes, trained dancers and fusions of culture that will impress even the most hardened critic. The festival lasts for a week and as with other similar events culminates in a street parade through the city's streets. There are island-wide events, but Santa Cruz de Tenerife is the place to be to really experience what the festival is all about.
2. Music Festival of the Canary Islands
Tenerife B&Bs become slightly busier throughout the month of January when the Music Festival of the Canary Islands comes to town.  A regular on the Tenerife calendar since 1985, this is the only European music festival to be held in winter and attracts top classical music talent from all over the world. Each year more and more visitors flood into Tenerife inns and hotels to experience the world's best classical music in some of the most pleasant surroundings possible – along with lovely weather conditions which is almost guaranteed.
The festival is shared between Tenerife and Gran Canaria, meaning both islands gets a chance to see the best acts during the month long festival, which was started to help enrich the cultural heritage of Tenerife and it certainly has achieved that over the past quarter of a century.
3. Corpus Christi
Whether a religious person or not, the Corpus Christi celebrations which take place throughout Spain and in particular Tenerife are really a sight to behold. On the 30th June every year, the town of La Orotava plays host to thousands of tourists and locals who come out to marvel at the stunning floral displays which adorn the small tight streets. The centre piece is without doubt the 850 metre square metre tapestry made from sand and soil and although there is always a religious aspect to the event, there is usually another them running throughout the displays. Tenerife hotels in La Orotava can get busy during the festival, particularly as it takes place at the height of the holiday season.
There is so much more to Tenerife than meets the typical tourists' eye. A quick look reveals some of Europe's most interesting festivals that are more than a match for some of the more famous events.
By Ricky Durance
IMAGE VIA: Secret Tenerife