One of the most stunning displays of architecture I have ever seen is the futuristic City of Arts and Sciences in Valencia, Spain. The creation of Valencia's own Santiago Calatrava is home to the largest aquarium in Europe, an interactive science museum, an IMAX theater, a beautifully landscaped walkway and the tallest opera house in the world known as the Queen Sofía Palace of the Arts (Palau de les Arts Reina Sofia).
This past week I had the opportunity to explore the Queen Sofia Palace of the Arts (opened in late 2005) and its four venues during a special in-depth tour which was part of #BlogTripF1.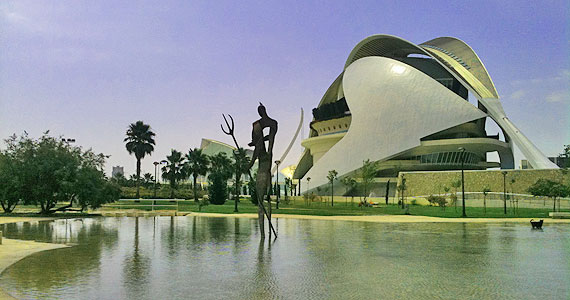 The first stop on my tour was the Main Hall (Sala Principal) which was hosting an operatic performance. Functioning primarily for the opera, the hall has four tiers of seating and is equipped with all the major facilities needed to pull off a world class production.
Located just above the Main Hall is the Auditorium with its spectacular sound and video systems. Slightly smaller, the Auditorium is a very versatile venue which typically hosts classical music performances.
The smallest venue, the Aula Magistral, is located in the main building. With a seating capacity of 400 people, it is primarily used to host conferences and corporate functions.
The fourth venue, the Marti i Soler Theater, is situated just outside the main building below the base of the plume. The theater is used for smaller theatrical performances and is also a practice facility for productions taking place in the Main Hall.
In addition to the individual venues, the Queen Sofia Palace of the Arts includes a number a unique spaces for concert goers and visitors to gather before and after the performances and events they are attending. Spaces include beautiful open-air gardens and terraces on either side of the building as well as a huge lounge with a gorgeous view of the City of Art and Sciences.