South Africa over the past few decades has firmly established itself as major force in the tourist industry, and began to push itself forward on the world stage. From winning the right to host the World Cup in 2010 to its stunningly successful safari holidays, South Africa it seems has put its somewhat unsavoury past behind it and is now an all welcoming country with numerous attractions to get the pulses of visiting tourists racing. Fancy experiencing it for yourself? You are not alone!
If you are thinking about visiting South Africa, booking hotel rooms for you and your family will be no problem in one of the country's premier attractions: Cape Town. But what awaits in the Mother City of South Africa? The reality is that you have two choices:
From Playboy Paradise…..
Cape Town is, in parts, very wealthy. Cape Town restaurants in downtown Camps Bay are just what you would expect from any other major city. Full of top menus from around the world, wealthy businessmen and carefree travelers mix in to create a cosmopolitan and modern feel that could rival any of the playboy destinations in Europe or North America. There is a lively cultural scene in the city, with music and art increasingly being seen throughout at jazz bars and art galleries. In fact the city every year plays host to the Cape Town Jazz Festival. If you are there during the month of March, make sure you check it out.
As you sit at Cape Town restaurants and look out at the hustle and bustle of modern city life, it is hard to remember that this is in fact a place that still has pockets of extreme poverty and life for millions of its citizens is totally different to the tourist scene. If you are in search of a real adventure and want to sprinkle your luxurious stay in this beautiful city with a sense of real South Africa, take a visit to the township of Khayelitsha.
…to Colorful Reality
Building hotel rooms are not exactly top of the agenda in this harsh township, but it does not mean that it should be avoided. It seems a bit insensitive to call Khayelitsha an "attraction" but the simple fact is that it is – it is a piece of real Cape Town life, shows what the average person lives and survives like on a daily basis. It is situated some 30km from the city, with the view from the famous Look-Out Hill providing a 360 degree view that incorporates False Bay, the Hottentots Holland Mountain range, Helderberg and Groot Drakenstein – all well know points of the township and surrounding area. It is possible to stay in Khayelitsha overnight, and although you will not exactly find 5 star hotel rooms, they will be very welcoming and perfectly safe.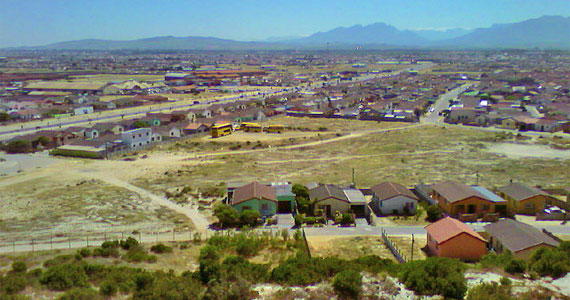 The bottom line is that Cape Town, like South Africa in general, is a land of contrast that can be tailored to the holiday or visit that you want.
Like to live the high life? Want to eat in the best Cape Town restaurants and take in the best of modern Africa culture? Camps Bay and Constantia are the places for you. On the other hand, if you want to speak to real South Africans, experience something that may shock you and leave you with a truly remarkable set of memories, explore the townships on a guided tour. Both are sensational holidays in their own right.
What other city could offer such a contrast? Visit Mydestination.com/capetown to plan your escape today.
IMAGE VIA: coda, nickgraywfu, Frerieke
By Ricky Durrance – Ricky is a freelance copywriter and enthusiastic traveller who is always looking to write for and meet interesting people who share his passion for travel. Ricky names Cambodia and Laos on his list of favorite travel destinations.