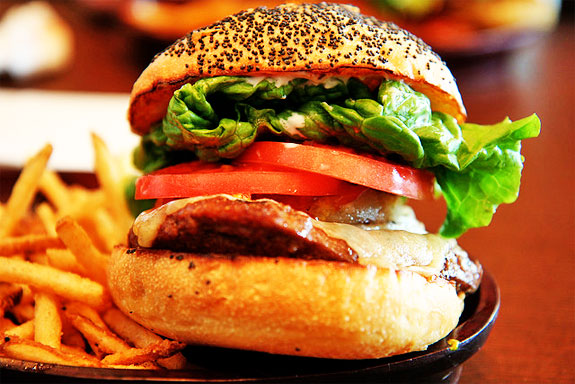 Some might consider what I am about to write about a sin, but I believe that you need a little break from even the best thing to appreciate it more. It's just like they say (in a more metaphorical sense, of course): "Distance makes the heart grow fonder."
I adore Italian food and I can't think of many other good opportunities to indulge in this little vice of mine than staying in one of the Rome apartments and eat away at all the excellent food the city has to offer. But every now and then I need a change maybe something completely contrary. And what could be more opposite to the traditional cocina italiana than a good old-fashioned hamburger.
Lately the hamburger has turned into more than a greasy fast food item. In fact, many gourmet burger restaurants have opened in Europe and the casual sometimes even sloppy "burger joint" enjoys great popularity even in cities like Rome where the local food is almost unbeatable.
In case you feel like having a burger somewhere in between antipasti, pizza, and pasta here are 2 burger places in Rome:
Crazy Bull Café
The Crazy Bull Café is an American diner in the style of the 50s and you will feel you just travelled back in time. The décor in the restaurant are vintage car signs, American flags, the booths are made of Cadillac seats and you will even have a juke box. Fries, shakes, burgers will be served in booths just like you would imagine in an American diner.
The Perfect Bun
This place is much more contemporary and is much more in the line of the trendy, stylish eateries you can find in many places now. The décor of the restaurant is very modern and has a cosmopolitan touch. On the wall you can see a big time table like the one you find in airports. Aside from chicken wings, hamburgers, and fries The Perfect Bun also offers a Sunday Brunch, something that is very rare in Rome.
So if you ever need a little break from Italian food when spending a few days in apartments in Rome you know where to go now.
IMAGE VIA: chichacha