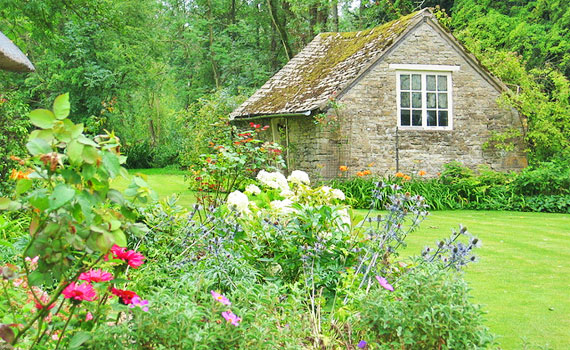 Whether you live across the pond, around the world, or a simple train journey away, a visit to the U.K.'s countryside is like stepping into a perfect little painting that has come to life. The pace is slower, the air fresher, the hills more rambling, the grass greener. The stonewalls seem to frame each scene. The old farmhouses and medieval buildings dot the countrysides and add to the charm that the locals exude.
In England, the Cotswolds is the epitome of how one pictures the English countryside to be. With wealth derived from wool trade and now tourism, the Cotswolds exude and air of sophistication. Whether you have already made a journey here or not, I recommend considering (or at least dreaming of) a cottage rental. Cotswolds cottages and manors are perfect places to spend an extended stay as you can experience a more local feel while having a base kick back after exploring the many footpaths and charming pubs. In fact, there are plenty of small charming and simple cottages as well as more lush and indulgent options. Be sure to visit the tea and antique shops in the area. Also, if you're flexible with your travel dates, you might want to check out what festivals are taking place in Cheltenham as they have quite a few internationally acclaimed festivals in the areas of music, science, literature, et al.
Head further north and treat your senses to the Scotland. Search for Nessy in the highlands or simply listen to the locals' tales of the infamous mythical creature. Tee off at the famous St. Andrews golf course. No matter what you choose to do in the countryside of Scotland, you will leave refreshed and invigorated by the fresh air and the lovely people. I am fairly confident that there is one souvenir the locals will not let a visitor leave without: a good laugh. Holiday cottages in Scotland would be the way to go for a taste of the good life here. Experience traditional Scottish style within an restored old cottage or even within a castle. Harry Potter fans (or even those who say "Harrry who?"), be sure to seek out some of those breathtaking scenes that have become so familiar to Potter moviegoers. The real life scene is inspiring.
Anyone in search of a bit of solitude mixed with a of good helping of conversation need not look further than the countryside of the United Kingdom.
Note: This article was written for Abercrombie & Kent
IMAGE VIA: tiarescott