Home » Featured, Getaways + Events, travel advice
Hydra – A Picturesque Artist Colony in Greece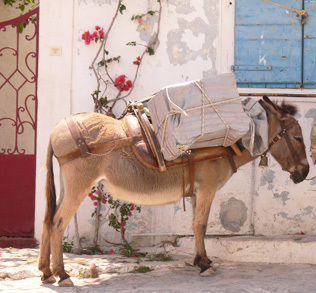 Just 35 miles from the port of Pireaus in Athens sits the island of Hydra, Greece. Hydra is a popular island for sailors, but the island is also easily accessible by ferry, water taxi or high speed hydrofoil from Pireaus making it a possible day trip from Athens or one of the other nearby Saronic Gulf Islands.
Hydra is an artist colony and you'll see why when you arrive in the picturesque port of Hydra Town.There are so many charming reasons to write about the island of Hydra. It is an island that uses donkeys for transport as cars are not allowed. It is an island with cobblestone paths winding through traditional white washed houses with red tiled rooftops, colorful trim and aromatic flowers. It is a small island with lots of picturesque tavernas to choose from. I have a vivid memory of dining under a trellis of hanging gourds in one of the traditional family style restaurants with deliciously fresh Greek seafood.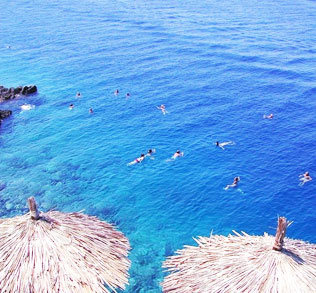 Perhaps, one of my favorite spots is the Hydroneta waterside bar/cafe which is a short walk from the port. The cafe sits below the cannons and wall of Hydra Town and is perched into the cliffside with several terraces to sit upon with a cocktail or Nescafe. I actually sat on the rocks below, diving into the warm, blue waters over and over again. I floated on my back for ages staring up at the colorful umbrellas set against the gray outcrop above. In between diving and floating, I partook in a few coffees and cocktails. Some might be turned off by the lively music which is almost always playing, but I guess I was in the mood at that time. I'm not even sure I really noticed the music, as I was so relaxed just taking in the beauty of the island and the surrounding deep blue waters. Sunset brings on a more relaxed atmosphere with classical music playing in the background. If it is not too crowded, I highly recommend a stop for a drink and a swim at Hydroneta.