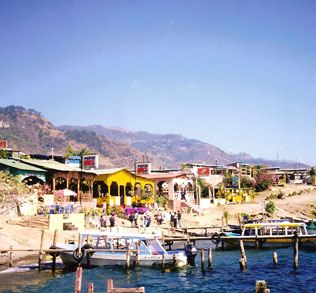 Located in the Guatemalan highlands, Panajachel, or Pana, is a town full of interesting sights, smells and sounds. Easily reached via a three hour minibus ride from Antigua or Guatemala City, Pana, provides incredible views of three volcanoes and Lake Atitlan. The volcanoes, San Pedro, Toliman, and Atitlan provide an extraordinary setting for this little gem of a town. Of the volcanoes, Atitlan is the largest, Toliman is just to the north-east of Atitlan and San Pedro is across the Santiago bay. They are part of a long chain of volcanoes that runs through Central America and Mexico and part of the "Ring of Fire" that circles the Pacific tectonic plate. It is possible to hike to the top of the San Pedro Volcano. The hike takes three and a half hours up and two and a half hours down.
Panajachel is the gateway to three indigenous villages around Lake Atitlan. Santiago Atitlan, Santa Cararina Palopo and San Antonio Palopo are famous for their women weavers and their typical clothes. During the day you can visit the surrounding villages by boat. Ferries and water taxis will take you around to the different villages. One day I took the ferry to the village of Santiago Atitlan and walked around every nook and cranny. The weavings made and worn by the Maya-Tzutujil and Cakchiquel women who live around the lake are some of the most beautiful and colorful I have ever seen.
Panajachel's busy market street, Calle Santander, is full of interesting open air restaurants, nightspots and shops selling things like very colorful weavings and creative masks. I loved heading to the lakeside park and the open-air Sunset Cafe to enjoy the breathtaking views of the volcanoes that surround the lake. After a long day of exploring, it was nice to enjoy a few Gallo beers while waiting for the sun to go down. The colors of the sky, lake, volcanoes, and mountains are absolutely amazing. Once the sun sets, there are many interesting restaurants to choose from. Many offer an open-air or garden like setting by candlelight. I remember ordering anything that was described as 'typico' and, no matter what time of day it was, enjoyed every bit. I found everyone in Panajachel to be very friendly and fun to be around.

The town has numerous interesting and inexpensive hotels. After being dropped off at the top of Calle Santander, I wandered all the way down the street and walked through the park to Calle del Lago where I found the Hotel Playa Linda. My comfortable room which had a balcony facing the lake and a fireplace that I used every night cost the equivalent of 40USD.