Pink's Hot Dog stand is arguably the most famous hot dog stand in the United States; certainly in Los Angeles. Some people call it a nostalgic trip into the past, others call it too crowded, and some simply call it a hot dog stand. Whatever you call it, there is no denying that Pink's Hot Dog stand, located near the corner of Melrose and La Brea in L.A., is definitely a Hollywood landmark having been there for over 70 years. Pink's is very easy to find. Simply look for a crowd of people and follow the aroma of fresh chili and soft hot dog buns.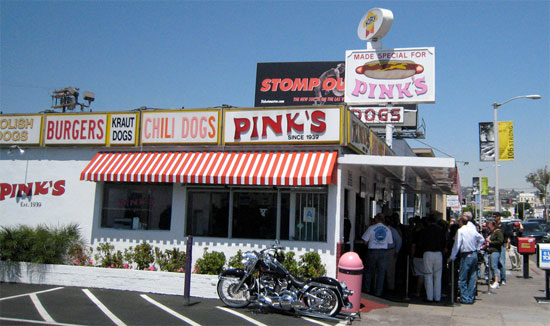 I used to work in the mid-Wilshire area of L.A. which is very close to Pink's. Even though Pink's has its own free parking lot with an attendant and claims to be able to prepare and deliver a customer order in less than 30 seconds, it was still a struggle to make it back and forth during an hour lunch break. The key to beating the crowd is heading out for an early lunch, say 11:00 or 11:30. For some though, a chili dog at 11 am can be a bit much. While waiting in line in front of Pink's, it is not unusual to see a Rolls Royce pull up or a movie star or musician waiting to savor a Pink's Famous Chili Dog.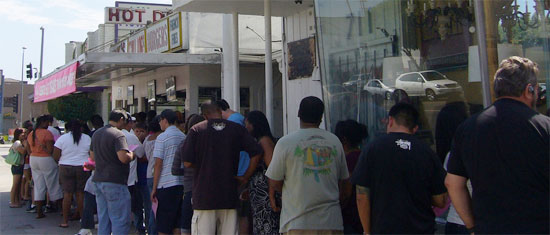 Paul Pink started his hot dog stand in 1939 as a simple pushcart serving chili dogs complete with a warm bun, over-sized hot dog, mustard and onions for 10 cents each. In 1946 Paul Pink traded in his cart for a small building constructed on the vary same spot where the pushcart had stood. Today, or the last I knew, Pink's chili dogs sell for $3.30 each and still include a generous helping of mouth watering chili on top of an all-beef hot dog with mustard and onions. Some other favorites on the menu include the Bacon Chili Cheese dog which is topped with 3 strips of bacon, tomatoes and cheese as well as the Guadalajara dog which comes with relish, onions, tomatoes and is topped with sour cream.