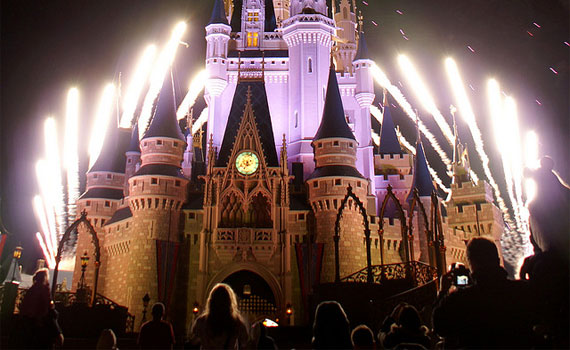 Orlando. The name conjures up all sorts of images in peoples' minds. Some think tourist trap, while others think lifelong dream. Some think kids' wonderland, while others think cocktails and fun. You might even encounter the odd scientist who sees things from a whole other point of view: physics.
Truth be told, my family and I went to Orlando last winter. I consider myself more of an independent traveller who is often looking for less visited locations to explore. Of course, any type of travel is good travel to me and this was no exception. Let's just say I was looking forward to visiting the people we planned to meet up with much more so than the theme parks themselves.
Well, I will no longer bite my tongue when somebody tells me they are heading to Orlando and they are so very excited. I have now seen the light. Many types of travel exist and tourist laden places have become that way for a reason. Once you arrive and get over the cost of the parks, with an open mind, you can actually gain an appreciation for a well-run machine. My stay was relatively short and was not theme park heavy as our main goal was to reunite with long time friends and family to watch and bet on the Oscars while enjoying a plethora of libations. I digress though.
We went to Walt Disney World with three young boys under six and two over 10 plus a handful of adults (of sorts). To walk around that place and take it in from the eyes of a child is truly magical. The lines can look overwhelming, yet the park has a system in place so that you can get a ticket to return to a ride at a given time and essentially skip the line. Certainly a plus in my mind. Food was easily accessible and a variety of tastes could be satisfied.
The second park we went to was Universal's Islands of Adventures. I read Jurassic Park ages ago, and this park brought that book to life. The rides were fun and impressive. What also left an impression on me were the employees acting as characters in the book. Two scientists quietly, but swiftly rushed though the area with a baby "dinosaur." Believe me, it looked so realistic, I had a fleeting thought that a Triceratops might have been successfully cloned. The technology even allowed the baby to respond to touch and the faux scientists warned curious (and gullible) patrons to back off because the creature carried a harsh bite. I truly heard these people, after the guys rushed off, wondering aloud if the baby Triceratops was real or not. In the same way, Harry Potter's world was a must see for fans and non-fans alike. The books and movies were brought to life. Even the food was straight out of the series. For really young children and anyone else who ever picked up a Dr. Seuss book, the Dr. Seuss area is a must (and quite possibly my favorite; though Harry Potter's world actually inspired me to read the series which I have just finished).
Admittedly, we really hadn't planned ahead very well when buying our Orlando theme park tickets, but there are some great deals available if you plan ahead just a bit more than we did. Sometimes it's best to learn from others' mistakes (which I made for you). You can certainly find packages available, such as the Orlando Flexticket, to visit a variety of parks at discounted rates and get perks such as a "kids-eat-free" card. Once you commit to making the journey, find the best deal, shell out the cash, and head yonder, I am sure you will be pleasantly surprised. I did not leave with the urge to go back year after year as others do, but I certainly was amazed at and developed an appreciation for the science behind the rides, the joy of the visitors, and the realization of the childlike dream of a man who went by Mr. Disney. The whole area developed from the seed of his mind.
Note: This article was written for Orlando Ticket Deals
IMAGE VIA: CURZU@