Technology has become part of our daily lives. However, when you go to stay in a hotel, you often find that there is a distinct lack of cutting edge technology. Indeed it can often be difficult to even the most basic technology such as Wi-Fi coverage.
However, there are some hotels around the world that buck the trend, building their reputations on the technology they have available for use.
Below is a guide to some of the best hi-tech hotels around the world.
Hotel 1000, Seattle
Hotel 1000 is located in downtown Seattle. It was opened in June 2006 and is full of gadgets designed to enhance the experience of staying in the hotel.
First and foremost of these is the fact that there is IP infrastructure throughout, which allows the hotel to personalise room temperature, music and even the art in each room according to guest's individual choices.
There is also a silent electronic doorbell service and free high speed wireless internet access throughout the hotel. There is even a system whereby a two seater pedestal bath is filled from the ceiling using an aerated system, to avoid splashing.
The most luxurious suite in the hotel is the Grand Suite, which is 2,000 square foot in total and includes its own private media room. The web rate for a luxe guestroom is $349 a night.
The Peninsula Hotel, Tokyo
The Peninsula Hotel in Tokyo prides itself on providing guests every convenience possible. This ranges from curtains controlled by a touch of a button at your bedside, to an electronic nail polish dryer. The hotel even has its own electronics department and has wireless phones enabled with Skype, which guests can use to call throughout the world.
A twin superior room at the hotel costs approximately $550 a night with the best suite being the deluxe king suite which is 1253 square foot. The hotel opened on September 1st, 2007.
The Blow Up Hall Hotel, Poznan
The Blow Up Hall hotel in Poznan, Poland is a boutique hotel. There is no reception and no room numbers on any of the doors. Instead, guests are given an iPhone and rooms are opened on recognition technology.
The hotels most unique feature is perhaps the large video screen in the lobby which displays images of guests from cameras throughout the hotel that are fragmented into 2,400 tiny images and reassembled into one huge distorted image.
The Blow up Hall was opened in March 2009 and is priced from 192 Euros per night per room. Features within the rooms include a docking station for the iPhone's, Bang and Olufsen televisions and power sprinkler shower.
The Upper House Hotel, Hong Kong
The Upper House Hotel is based in the Admiralty area of Hong Kong. Every guest is given an iPad Touch on arrival which is preloaded with games, music and everything they need to know about the hotel and the area. This replaces the hotel directory and room service menu, although a landline and paper versions are available for those who wish to use them.
The hotel was opened in October 2009 and some of its technology features include motion sensors so that housekeeping never disturb you when you are in your room and check in via a wireless hand held terminal.
When you leave, your bill and credit card statement are emailed to you, meaning you don't have to spend time at reception settling up. As you might expect, there is free Wi-fi throughout. Rooms at the Upper House Hotel start at £210 a night, many of which have excellent views of the harbour.
Hotel Sax, Chicago
The Hotel Sax in Chicago was opened in June 2008 and offers many features to delight their guests. There is free Wi-Fi as you would expect, and also huge wide screen TVs and the use of a laptop and a Zune Mp3 player during your stay at the hotel.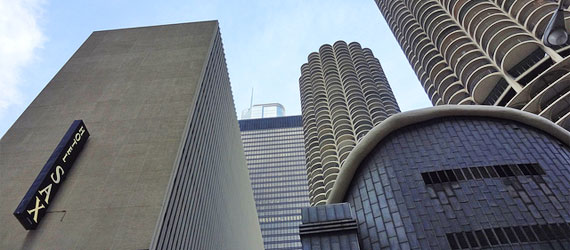 The most luxurious room is the Penthouse Suite, which has its own exclusive Media Lounge. There is also a studio lounge, well equipped with technological gadgets, that is available to guests. Rooms start from around $250 a night.
The above hotels are currently some of the best technology hotels around the world. As technology moves so on so quickly, there will always be new hotels with even more gadgets opening.
Note: This article was written by the team at Travel Supermarket