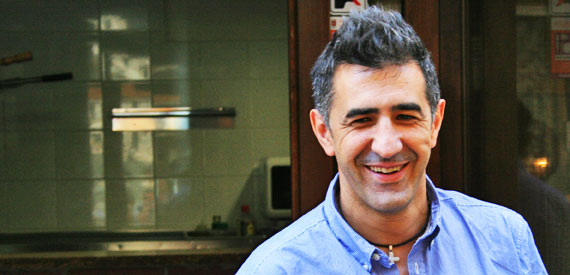 The Spanish enclave of Llivia is unique in many ways, not least being that it is part of Catalonia yet completely surrounded by France. One of Llivia's most unique residents is Fabian Martin, a former world class boxer whose Taller Pizzeria has revolutionized the traditional concept of pizza.
Fabian Martin's entrance into the pizza world is the result of pure circumstance. Well on his way to the Olympic Games in Atlanta as a boxer for the Spanish national team, Fabian's career was cut short by a car accident. Subsequently, while keeping busy in his family's pizza shop, Fabian began experimenting with form, ingredients and flavors to create and surprise the customers. A few years later, Fabian became the first non-Italian pizza chef to win the European Championship for acrobatics and quality.
Upon entering the welcoming pizzeria, customers will find about ten tables and lots of pictures of Fabian. In addition to appearing in the pictures on the wall and the collage of news clippings on the tablecloths, Fabian himself appears in the dining room where he often serves and explains some of the dishes. The pizzas themselves are a combination of originality, exotic flavors and fun, making a stop at Taller Pizza a must for any visitor to the ancient town of Llivia.
From the moment I walked into Fabian's Taller Pizza, the atmosphere was all about fun. Fabian's playful personality is what I would consider very typical of a classic boxer type like, say, Mohamed Ali. He is always playing to the crowd with fists up and a fierce look which turns to a huge grin at the drop of a hat.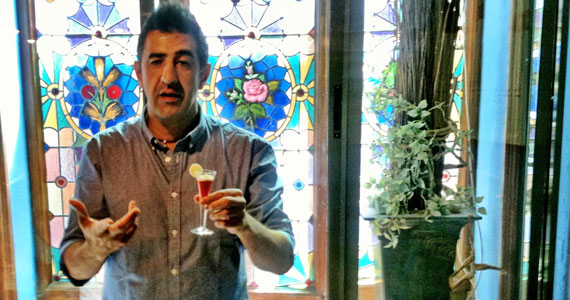 My table started with the 'not so typical' margarita pizza that you drink all at once, like a shot. Upon Fabian's suggestion, I closed my eyes, mixed it around in my mouth. While I didn't feel like I was in Napoli, it did taste as if I was eating authentic Margherita pizza.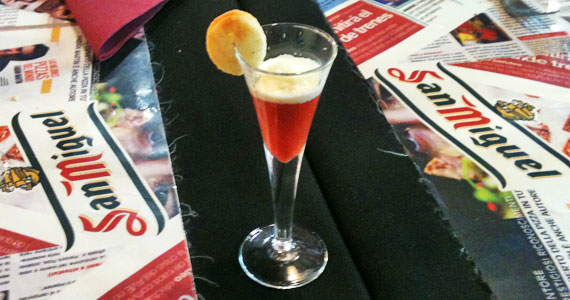 While we were waiting for our next pizza, we were served a few different types of freshly baked bread and an incredible tomato tartar that was flavorful in so many ways.
Next up was pizza as a tapas. The makers of San Miguel beer approached Fabian to create a special tapas that went well with their beer. He delivered them this bite-size baked bit that bursts with pizza goodness.
My favorites were the fresh mozzarella pizza with ham and the pizza with cepes (mushrooms). The way that Fabian combines the cream sauce with the cheese and adds heaps of mushrooms to this pizza makes it top notch.
While not my personal favorite, the Japopizza is a sushi pizza you eat with chopsticks. Though not my top choice, I cannot speak for others. It certainly went quickly at my table.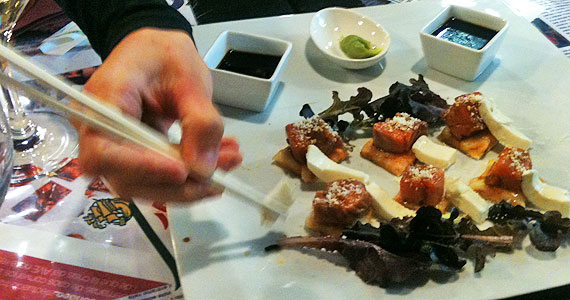 For dessert I enjoyed what looked like an egg in a mini frying pan. Fabian insisted we eat it in one bite while closing our eyes and then asked if it reminded us of our childhood. I suspect it was something along the lines of cake batter with mango.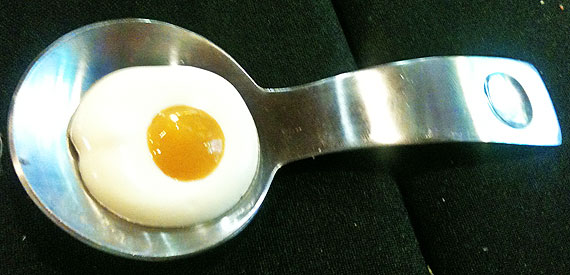 I left the restaurant fascinated. It is clear that Fabian Martin is having fun at his small pizzeria in Llivia and I would expect many new and exiting pizza creations in the future.
Here's a list of Fabian's accomplishments and a quick video of him showing off his pizza skills before we left.
2007 Champion – New York Pizza Show.
World Champion – New York Gourmet Pizza, Quality and Acrobatics.
2003 Champion of Spain in Quality.
2003 European Champion in Pizza Aerobatics.
2002 European Champion in Quality.