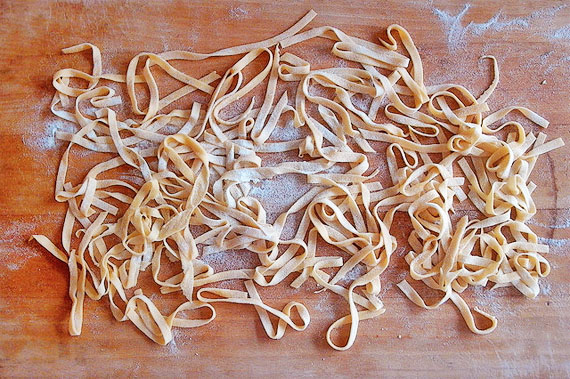 Recently, I stumbled upon the fact that October 25 is World Pasta Day: a day to celebrate one of the world's favorite foods. Pasta is convenient and easy to make, yet it can be so varied. Not only can pasta be accompanied by many different sauces, but the pasta itself can vary greatly in shape and size. What truly makes pasta so convenient is the fact that ready-to-boil pasta is widely available. However, what if you choose to prepare a pasta dish from scratch?
The best destination to learn how to make pasta by hand is likely Italy. If you choose to rent one of the many great apartments in Florence, you can use the opportunity to participate in an authentic cooking workshop to learn the art of pasta making. In this group (limited to 12 participants), an Italian chef will introduce you to methods and techniques for making pasta. For lunch, you can delve into the final product whilst enjoying a great Italian wine. The meeting point for this class is Piazza Santa Trinita. For more detailed information click here.
Those who want to avoid cooking should be sure to try at least one of these restaurants in Florence where excellent handmade pasta is served:
L'Osteria di Giovanni – 22 Via del Moro
What people love most about this restaurant, aside from the excellent food, is the atmosphere. The wait staff and owners are very attentive and ensure everything is to your liking. Though it may be your first time there, you will be treated as family. Make sure you make reservations ahead of time.
Ristorante Accademia – Piazza San Marco 7r
Popular for its homemade pasta, pizza and dessert, this restaurant is frequented by many visitors of the nearby Accademia. Unexpectedly, the prices at this restaurant remain very affordable despite its excellent location.
Osteria dell'Agnolo – Borgo S. Lorenzo, 24r
The cook at this restaurant strikes an excellent balance between traditional Tuscan cuisine and new trends in cooking. Among the specialties here are the orange duck and freshly made macaroni with duck sauce.
Anyone staying in Florence apartments will have so much to explore. After spending the day sightseeing and visiting the famous galleries and museums, you will most certainly be in the mood for a good meal over a great glass of red wine.
IMAGES VIA: ishane, borisvienna