One of my first stops during a recent trip to the Girona Pyrenees was in the small, captivating town of Puigcerda in Cerdanya. Located in the eastern Pyrenees, which is divided between France and Spain, Puigcerda is approximately a two hour drive from Barcelona.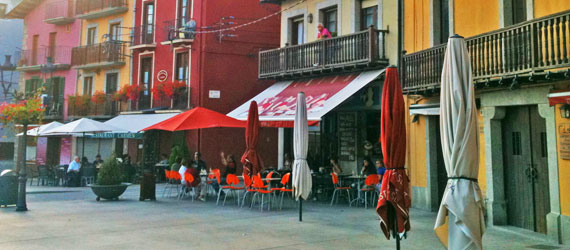 Inviting and colorful outdoor cafes line parts of Santa Maria Square which gets its name from the bell tower that flanks the square. Not far from here is the old Town Hall which has a breathtaking lookout point that opens up over the landscape of the Cerdanya county. Puigcerda is a great place to explore by horseback or by bicycle and rentals are readily available allowing you to venture off on your own or as part of a group.

No trip to Puigcerda would be complete without visiting Schierbeck Park and walking the full circumference of its lake. I was mesmerized by the lake and the reflections on its surface from the clouds above. I found that the park has much the same allure as the Boston Public Garden. The luxury hotel right on the lake is a great spot from which to quietly admire the splendid scenery of Puigcerda for a night or two.