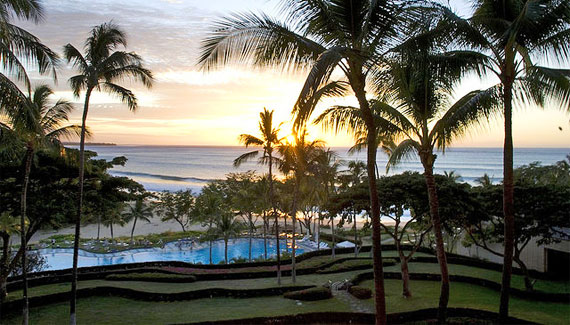 No matter what visitors to Hawaii choose to do, paradise and beauty will almost certainly be part of the mix. There is probably no better place than Hawaii to "get away from it all." The 50th state is the most isolated population center in the world sitting over 2000 miles from California, close to 4000 miles from Japan, nearly 5000 miles from China, and over 5000 miles from the Philippines.
Golfing enthusiasts or amateurs will not want for a perfect course. There are over 70 courses waiting to be played and, by my estimates, that makes over 1000 holes atop one of the largest mountain ranges in the world. Some of the individual holes are so world renowned that many golfers, if shown a picture, could identify a hole by its course and number. Many of the championship courses have been designed by golf's biggest legends including, Greg Norman, Jack Nicklaus, and Ted Robinson. For discounted tee times, be sure to visit www.hawaiigolf.com.
If you are an amateur golfer or long for a more casual course, do not rule out a round while you are visiting Hawaii. There are some hidden gems without tee times just for you. In fact, on the island of Kuaui, you can play at Kukuiolono (if you can find it), a nine hole course with a unique history. The land was owned by Walter McBryde, a sugar and pineapple man, who built the nine hole golf course with features including stones found in area cane and pineapple fields, a Japanese garden and magnificent views of the south shore and the island of Niihau. After his death, he bequeathed the course to the public in an irrevocable trust which probably accounts for its low cost. He left all his savings to the park and course's maintenance. As you go by the 8th hole, be sure to say Mahalo to McBryde for his generosity as he is buried nearby.
IMAGE VIA: rocketvox
Note: This article was written for El Toro Interactive