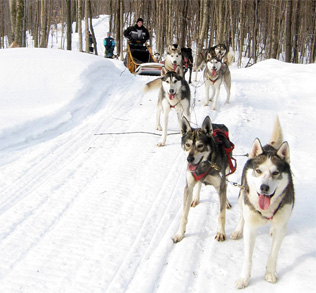 If you're looking for an outdoor winter experience that's out of the ordinary, try a Canadian dog sled adventure. A truly unique outdoor winter activity, dog sledding is Canada's traditional and oldest mode of winter transportation. Most people find the feeling of commanding their own dog sled team along trails through pristine valleys and over mountain ridges to be very inspirational. A truly Canadian activity in every way, dog sledding is a fun and interesting way to enjoy winter landscapes and is also a pretty good physical workout.
Dog sledding adventure trips vary by location and range from 1-2 hour day trips to adventures that last several days or longer. Some trips are designed to simply ride along and enjoy the experience while others teach the basics of mushing and provide the opportunity to handle a dog team yourself. Some overnight trips offer the opportunity to camp out under the Northern Lights in warm cabins or heated tents along the trail.
The dog sledding season runs from November to April, depending on snow condition. Some of the best areas to experience a dog sled trip are British Columbia, Alberta, Saskatchewan, Quebec, Ontario, Yukon, Nunavut and the Northwest Territories.