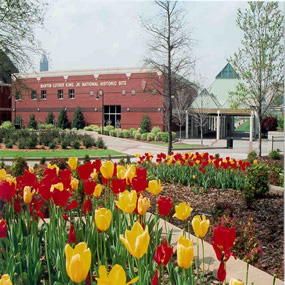 Just a few blocks east of downtown Atlanta lies the Sweet Auburn neighborhood which was the birthplace and home of the most influential Civil Rights leader in America's history, Martin Luther King Jr. This site, now a registered historic site run by the National Park Service, contains Dr. King's boyhood home, the Ebenezer Baptist Church, and Dr. King's tomb. As the historic site covers several city blocks, start at the Visitor Center where you'll be able pick up a map, get a brief orientation, and find details on how to sign up for a tour of the Birth Home.
Highlights also include: A museum that chronicles the American Civil Rights Movement; the "I Have a Dream" International World Peace Rose Garden; a memorial tribute to Mohandas K. Gandhi; and the "International Civil Rights Walk of Fame" which gives recognition to those courageous pioneers who sacrificed and struggled to make equality a reality for all. If you have children, make sure you see the "Children of Courage" exhibit which tells the story of the children of the Civil Rights Movement.
Tours of the Birth Home of Dr. Martin Luther King, Jr. are conducted daily and may only be visited as part of a park ranger led tour. Admission and parking are free and no special arrangements are needed since most of the park is self guided.
Here's a great tip: stop by the Eastern National Bookstore, located inside of Fire Station #6 on the corner of Auburn Avenue and Boulevard, and rent a GPS Ranger. The GPS Ranger is a multimedia device that guides you through the entire Sweet Auburn area. The device allows visitors to hear Dr. King's message and view images in the palm of your hand.