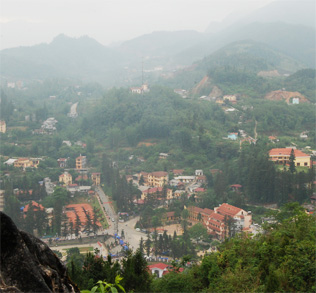 Sapa is an astonishingly picturesque village near the Chinese border in northwest Vietnam. An old French hill station nestled among the Hoang Lien Son Mountains, Sapa is one of the most scenic mountain locations in Vietnam. Often referred to as the "Tonkinese Alps" or the "Alps of the North Sea," the Hoang Lien Mountain Range is home to Fansipan Mountain which is the highest peak in the Indochina Peninsula. As visitors approach Sapa, the first thing that sticks out are the detached wooden mansions and villas perched on the hill tops and hillsides. The villas with red roofs that appear within the rows of pomu trees give the town a feeling similar to that of some European mountain villages.
Sapa is the starting point for many climbers and scientists who want to reach the top of Fansipan Mountain, the highest mountain in Vietnam at 3,143 meters. The pyramid shaped mountain is covered with clouds all year round and temperatures often drop below zero at the higher elevations. Other fascinating sites in Sapa include Ham Rong Mountain, the Silver Waterfall, Rattan Bridge, the Bamboo Forest and Ta Phin Cave. Regarded as the kingdom of orchids, hikers around Sapa will observe hundreds of different kinds of orchids in all shapes and sizes while trekking through the forest.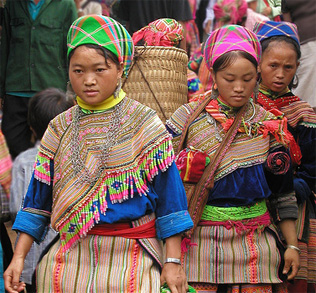 Each day, the H'mong and Dzao people from the local hill tribes head into the town's market to trade their produce. The main market is held every Saturday, but there are also low key markets every day of the week. While the local people typically have no formal education, the arrival of tourists has made them well aware of the value of money. Many of the younger folks have picked up some English which they use to sell their handicrafts and clothing to the tourists.
There are plenty of places to stay in Sapa and enough to do to keep visitors busy for a few days.