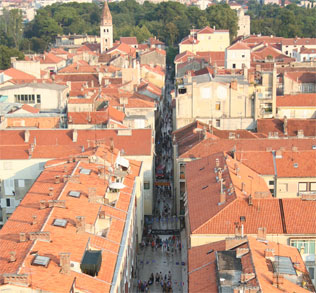 Zadar is an important Croatian coastal city that has undergone a startling revival in recent years. The musical steps on the waterfront are interesting and express the important relationship this walled city has with the sea. One of the many interesting sights includes the Crvka Sv Donata, Church of Saint Donat, which is thought of as the most outstanding monument of the old city. Zadar is also home to many fine museums such as the Maritime Museum and the Archaeological Museum which is one of the most important in Croatia with about 80,000 exhibits from the Stone Age to the late Middle Ages.
Cafes and bars are typically filled with people who sit for hours enjoying the city and its people. Visitors to Zadar will enjoy the contemporary Croatian restaurants which serve njoki, lamb in red wine, or one of the many the popular fresh fish choices. Zadar cuisine has become quite sophisticated and, best of all, it's reasonably priced. The Maya Pub is mellow and relaxing during the day and is worth a visit at night when the music starts up and tends to be exotic and unpredictable. Be sure to try the famous liqueur, Maraskino, which has been produced in Zadar since 1821.
Visitors to Zadar can also visit nearby islands like Pag by boat or even make a day trip to the Plitvice Lakes.