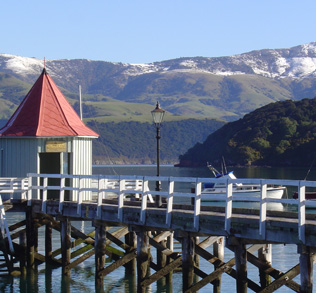 The charming township of Akaroa sits at the edge of a pleasing harbor inside the eroded crater of a gigantic, extinct volcano. Akaroa is located an hour and a half drive southeast of Christchurch on Banks Peninsula, the South Island's most impressive volcanic feature. The peninsula has two prevailing craters which form Lyttelton and Akaroa harbors. As the only French settlement in New Zealand, the town is elegant, full of character and worth a visit.
The best way to explore Akaroa is on foot. We started at the information center, located on the corner of Rue Lavaud and Rue Balguerie, and picked up a few brochures and maps and then set out exploring. There is a self-guided walk of the historic cottages and a museum that tells the story of Akaroa.  The streets have French names and local restaurants focus on French cuisine. One of the most popular things to do in Akaroa is swimming with dolphins in Akaroa Harbor. This is the only place on the planet where you can swim with Hector Dolphins (also known as the New Zealand Dolphin).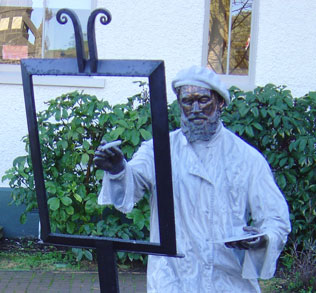 After walking around the the entire town, on a cold day in July, we settled down at a spectacular, local French restaurant at a fireside table. Sitting by the fire, eating New Zealand green lip mussels and drinking white wine at a table with a view of the bay was probably our best dining experience in New Zealand.
The road in, while very picturesque, can be tricky and drivers should use caution. We found ourselves navigating the steep, narrow and twisting roads during a snow storm. I would strongly suggest spending the night at one of the Akaroa hotels, as we did, and not making the trek back to Christchurch at night after a day of walking and a dinner that included lots of wine.