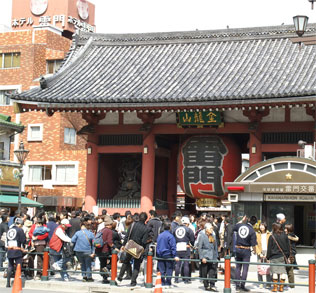 While it may no longer be the premier entertainment district it once was in the years leading up to World War II, Asakusa, part of Tokyo's downtown Taito district, still has plenty of lively activity. Today, Asakusa is best known as home to the Senso–ji Temple. The ancient temple, Tokyo's oldest and one of its most significant, is the home of Tokyo's largest and most popular matsuri (Shinto festival), which takes place in late spring. Despite being a major tourist attraction, complete with crowds posing for photographs in front of the main temple gate as hoards of street vendors sell samurai swords among rickshaw drivers wearing costumes, the temple is still quite impressive.
Asakusa can be easily explored on foot. As you walk west from the temple it, won't be long before you get to where the action is. The pachinko parlors with their neon fronts are impossible to miss. Pachinko is a combination pinball and slot machine where the player controls the speed with which a bunch of small steel balls are thrown into the pachinko machine. While most of the balls simply fall down the machine and disappear, a few find their way into special bonus holes which activate a slot machine. If the same three images appear, the player wins countless new balls which can be exchanged for items in the parlor's gift shop.
No visit to Asakusa is complete without trying one its famous senbei rice crackers which are grilled on the spot, flavored with soy and wrapped in seaweed. You have to try one before following the scent of the charcoal smoke coming from one of the nearby eateries. There are plenty of interesting looking eateries to choose from and many have outdoor tables where you can have a beer and enjoy mouthwatering grilled chicken skewers while soaking up the atmosphere.