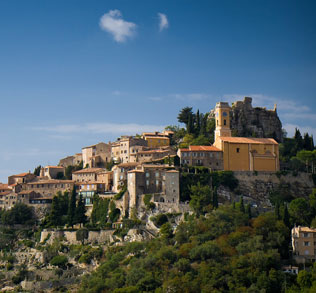 Èze is a medieval village located in the French Riviera along the main road between Nice and Monaco. This picturesque village is perched atop a narrow rocky peak overlooking the Mediterranean sea and can be seen from afar. The panoramic view of the sea from the top is absolutely amazing.
After parking the car we found the rocky path leading to the village and walked up the narrow streets while admiring the stone houses. On this sunny day in September, the streets were filled with tourists. The smells from the herb stands and refreshing fountains are exactly what you would imagine in a small Provencal village. The shops, some dug into the rocky hillside like caves and many with the charming window boxes, present unique photo opportunities while offering many higher end, Provencal mementos. The Jardin d' Èze, known as the exotic garden, offers a range of plants, history and tradition. There are a number of cafes at the top and a few high end hotels and restaurants.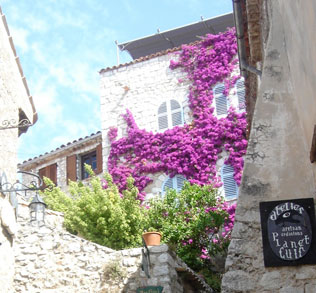 Below the ancient village lies the residential Èze sur Mer which has a beautiful beach, a few cafes, hotels and a train station. You can hike up or down the valley between Èze Village and Èze sur Mer in about an hour and a half. During the summer months, it's not uncommon to stumble upon such popular summer residents as U2's Bono along with his band mate The Edge. The band's video for 'Electrical Storm' was filmed here in 2002. The Edge was also married in the exotic garden in the village of Èze while wearing his trademark black cap during the celebration. This past spring Brad Pitt and Angelina Jolie joined Bono and The Edge and enjoyed it so much in Èze sur Mer that they decided to stay here during the birth of their twins.