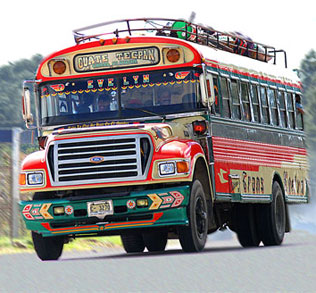 From its colorful markets and bougainvillea-covered walls to its pastel colored colonial buildings, Guatemala is arguably one of the most colorful countries in the world. One of the first things I noticed upon arriving in Guatemala, were the intensely hued buses. Known as "chicken buses," these old, retired American school buses arrive in Guatemala in the twilight years of their careers and are reborn. The old yellow school bus is beautified with brightly colored paint in brilliant patterns and religious icons.  Now, the buses are a vivid piece of typical Guatemala.
While the chicken buses are a lot of things, such as slow going up a hill, uncomfortable, hot, musty, sweaty, oil sputtering and jammed packed, the buses themselves are safe with good brakes and loud horns which are very important when you're flying down the narrow mountainous roads. The ride may be unpleasant, but the noises, the smells and the eye-popping color are Guatemala at its best.
I highly recommend a short trip on a chicken bus as it's an animated cultural experience that you'll always remember. Longer trips, over 30 minutes, may be better by van. Most travelers in Guatemala take private vans or shuttles to places like Antigua and Lake Atitlan. Most transportation services can arrange a van pick up or drop off at the front door of your hotel or hostel.
IMAGE VIA: DavidDen