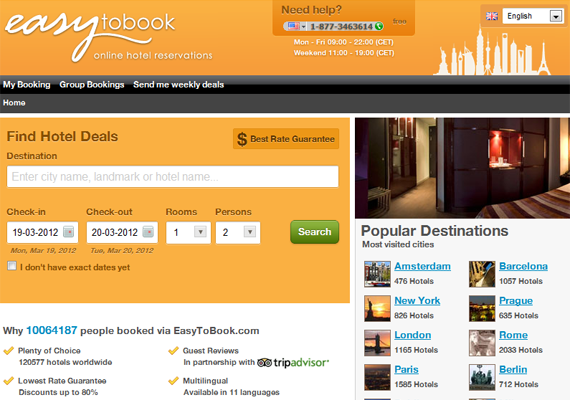 Easy to Book truly makes booking a hotel easy and convenient. Users can even change the site language and currency very easily from the main booking page. Personally, I like to be able to filter hotels in many different ways. I also tend to amend my searches after seeing prices, pictures, or reviews. Oftentimes, amending a search means starting all over, but With Easy to Book, amending a search is very simple. This is important to me as I tend to do a lot of research before making a booking (a change of course from the days I tended to just pop into an establishment and cross my fingers in hopes that they were not full for that very same night).
Another interesting feature of the site is that little factoids unobtrusively pop up while you are perusing hotels. The pop-ups inform you as to how many people are currently looking at a particular hotel, when the last booking was made and from what country it was made.
Though, Easy to Book seems to have most of the bases covered, including a form for group bookings, they make themselves very accessible via phone and email for site users in case follow up inquiries or requests arise.
The Prices
Hotel prices that are listed have a best rate guarantee and feature discounts up to 80% off rack rates (the rates a hotel would charge if contacted directly). You can subscribe to deals of the week and customize preferences specifically for your interests. Featured deals can also be found on Facebook and Twitter.
The Blog
The blog is engaging and features fun quizes such as the Famous Arches Quiz and the Are You a Food Expert? culinary challenge (apparently I know my food much better than my arches of the world). Even better, the blog often features contests with rewards such as hotel stays or city guides. One of the latest contests was a St. Patrick's Day giveaway for two nights accommodation in Dublin with breakfast included. All readers had to do was "like" Easy to Book on Facebook and leave a comment via Facebook or Twitter regarding how they intended to have a "craic" (i.e. a jolly good time) in Dublin. Simple. Similar contests are run by Easy to Book about once a month.
The Reviews
Easy to Book has partnered with TripAdvisor.com to showcase hotel reviews in a convenient, up-to-date manner. There is no need to flip from site to site to check user comments as all the TripAdvisor guest reviews and photos are accessible for each hotel.
The City Info
Another bonus of the site is the additional city information provided via Qwiki, a dynamic, multimedia platform offering quick bits of information on various places. Easy to Book features Qwikis on many of the cities for which it offers hotel deals. If you have not used this newer platform yet, you should check it out via the Easy to Book blog.
Note: While this a sponsored post, all opinions are my own.